No rational observer of Thursday night's Cavaliers/Heat game would deny an enormous talent discrepancy between the two teams. The Cavaliers do not have one player on the roster as talented as the Heat's third option, Chris Bosh.
What Clevelanders did know, however, was the last time this team was supported by a raucous, sellout crowd with a chip on its collective shoulder, they defeated the heavily favored Boston Celtics on the season's opening night.
Considering that LeBron James, with his actions and words this summer, basically told his former Cavaliers teammates, "I can't win with you bums, I'm going to Miami to get a ring." You would think this match-up would have been about as personal for the players as it was for the 20,562 who jammed Quicken Loans Arena.
The crowd brought it in a historic way. Longtime Cavalier Zydrunas Ilgauskas said it was the loudest he ever heard the arena. The national media showed up in force as well. All that was missing by tip-off time was an inspired, gutsy performance by an undermanned Cleveland team with a LOT to prove.
Only a funny thing happened on the way to the payback party. The Cavaliers never showed up.
And we saw it from the first basket of the game. After Dwyane Wade intercepted a lazy pass from Mo Williams, he glided down to the other end with Anthony Parker trailing close behind. At this point Parker had the option to go up and deliver a hard foul on Wade, set the tone early, and tear the roof off the arena. It may have drawn a flagrant, but still a small price to pay.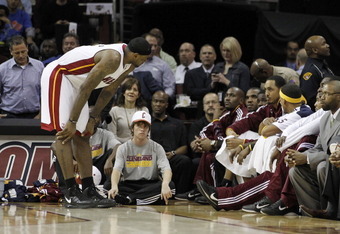 Gregory Shamus/Getty Images
Instead, Parker decided to pull up and become an observer as Wade effortlessly dropped in the game's first two points. The Cavaliers were pretty much done from there.
It wasn't the Heat's overwhelming talent that was surreal to watch, but the total lack of resistance from the Cavaliers. They were like a boxer, repeatedly taking jabs to the mouth and responding by covering up and backing up to the ropes.
No hard fouls. No physical play. Zero intensity on defense.
The pregame felt like the NBA Finals, while the actual game more resembled a scrimmage.
When it mercifully ended, the Cavaliers decided to toss a few more curveballs at their humiliated and bewildered fans.
Speaking from his locker, forward Anderson Varejao said, "We have to watch the film and see what we did wrong."
Huh? Here's a time-saver Andy, EVERYTHING.
Varejao continued, "Its just another game and we lost."
Really? Just another game huh? I knew you were from another country, but I didn't realize you had been living on another planet!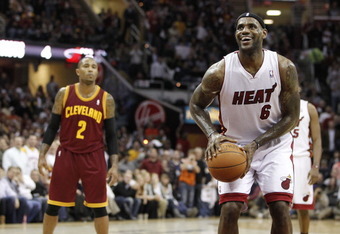 Gregory Shamus/Getty Images
Finally Andy added this gem, "When you give 100 percent, there is nothing to be embarrassed about."
Say what?
If
that
was the Cavaliers giving 100 percent, then they are going to have an awfully good lottery pick next year.
The bizarro post game didn't stop there. Head coach Byron Scott proudly stated he was ok with the team's intensity but he was disappointed because he "Knows we can play better."
Holy butters I certainly hope so boss!
Scott also said, "Like I told them guys (in the locker room), I haven't lost any faith in them."
I sincerely doubt you could find one Clevelander tomorrow who can say the same.
Forward Anthony Parker, who played as if he is more suited to join his sister Candace in the WNBA, added, "We didn't make (the Heat) feel uncomfortable in any way."
Well Parker may never be captain of the Cavaliers, but on this night he was captain of the obvious. Thanks for that pearl AP.
The Cavaliers can shovel all the spin they want about "just one game" and "off nights," but the fact is this wasn't just another game. This was a game that meant a great deal to the paying customers and the team on the court made complete buffoons out of them.